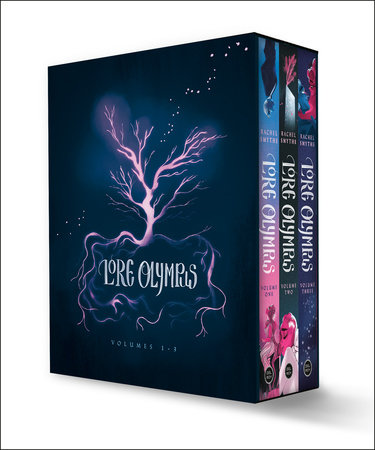 Lore Olympus 3-Book Boxed Set
Volumes 1-3
Rachel Smythe
About the Book
Scandalous gossip, wild parties, and forbidden love—witness what the gods do after dark in this boxed set containing the first three hardcover volumes of the Eisner Award–winning webcomic Lore Olympus, a stylish and contemporary reimagining of one of the best-known stories in Greek mythology
 
An ingenious take on the Greek Pantheon, Lore Olympus is a modern update on the story of Hades and Persephone. Follow the propulsive love story of two Greek gods, told with lavish artwork and contemporary sensibilities.

This full-color boxed set contains the first three volumes in Smythe's Eisner Award-winning webcomic: Lore Olympus: Volume One, Lore Olympus: Volume Two, and Lore Olympus: Volume Three. Featuring the original hardcover editions and beautiful boxed case art from Smythe, these sharply perceptive and romantic graphic novels bring Greek mythology into the modern age.
 
This boxed sets collects episodes 1–75 of the #1 WEBTOON comic Lore Olympus.
Read more
Close