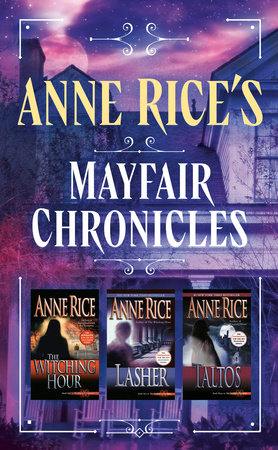 Anne Rice's Mayfair Chronicles: 3-Book Boxed Set
The Mayfair Witches, Lasher, and Taltos
Anne Rice
About the Book
For the first time, the complete Mayfair Chronicles from #1 New York Times bestselling author Anne Rice are collected together in a stylish three-book set—the inspiration for the hit television series.

In this mesmerizing series, Anne Rice demonstrates her gift for spellbinding storytelling and the creation of legend:

The Witching Hour: A hypnotic tale of witchcraft and the occult that introduces a great dynasty of witches—a family that over the ages is itself haunted by a powerful, dangerous, and seductive being.

Lasher: The beautiful Rowan Mayfair, queen of the coven, must flee from the darkly brutal yet irresistible demon known as Lasher.

Taltos: When Ashlar learns that another Taltos has been seen, he is suddenly propelled into the haunting world of the Mayfair family, the New Orleans dynasty of witches forever besieged by ghosts, spirits, and their own dizzying powers.
Read more
Close