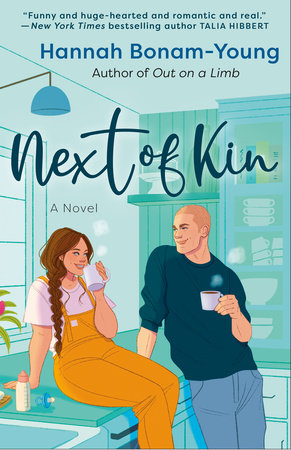 Next of Kin
A Novel
Hannah Bonam-Young
About the Book
Two bickering strangers trying to foster their younger siblings team up to create a stable home, but the chemistry between them threatens to undo their plans—from the viral TikTok author of Next to You and Out on a Limb.

"Funny and huge-hearted and romantic and real."—New York Times bestselling author Talia Hibbert

When people-pleasing Chloe learns that her birth mother has unexpectedly had another baby, she doesn't hesitate to become a next-of-kin guardian. But when she fails to pass Child Protective Services' financial evaluation, she is faced with a choice: see her baby sister placed in foster care or participate in CPS's new initiative, where two prospective guardians join households to qualify.

Enter Warren, a surly mechanic's apprentice attempting to get custody of his deaf fifteen-year-old brother. From the moment Warren drives up thirty minutes late, blasting music out of his car, Chloe is convinced that this is a very bad idea. The two immediately clash but eventually agree to live together for the sake of their younger siblings.

As their lives intertwine, and Chloe adjusts to caring for her newborn sister, she begins to see a new, softer side of Warren. In fact, they're far more similar than she could have imagined. What started as forced begins to feel natural—and far less lonely. Chemistry soon intensifies beyond what either of them can stand, but is their mutual attraction worth risking everything they've fought for?
Read more
Close