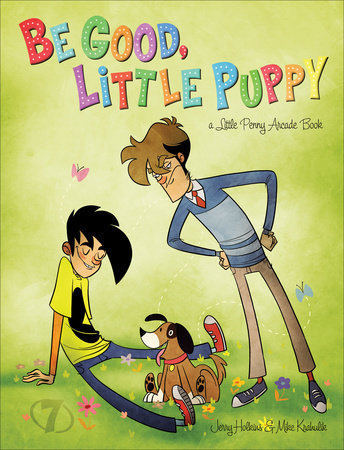 Be Good, Little Puppy
A Penny Arcade Book
Jerry Holkins and Mike Krahulik
About the Book
"WHO DARES DISTURB THE CRYPT OF THE IMMORTAL SPACE BITCHES?"
 
The answer may very well be here—along with blatant abuse of Nerf weapons, highly questionable pizza toppings, murderous exploding penguins, shopping-mall zombie mayhem, the ponderous ponderings of Twisp and Catsby, and the libidinous juice machine that shall remain nameless (at least on the book cover)—in the seventh Penny Arcade collection.
 
Inside you'll find
• Every full-color Penny Arcade strip from 2006—along with all-new, supposedly insightful commentary from the genial creators!
• Sixteen pages of brand-spanking-new bonus material that's not to be missed!
• The Sorcelator!
• And more, from the New York Times bestselling alteregos of those gaming-obsessed, pop-culture hellions Gabe and Tycho!
Read more
Close