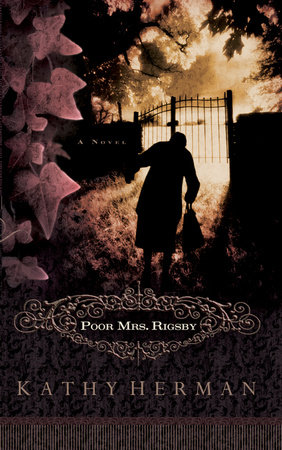 Poor Mrs. Rigsby
Kathy Herman
About the Book
CNA Sally Cox is about as happy to be at Walnut Hills Nursing Center as the patients are. But it's work or starve, now that her husband has found a younger companion. Sally's new crowd skews toward the elderly—ninety-year-old Elsie Rigsby, for instance, whose dementia comes and goes with her gold-digging son and grandson's visits. Elsie's not going to tell those vultures where she stashed her money. Still, she's not getting any younger, and someone besides her needs to know. Three deaths later, is anyone watching Sally?The love of money…

Poor Mrs. Rigsby gets so confused. But she's Sally Cox's favorite patient at Walnut Hills Nursing Center . It's too bad her only relatives are her insensitive son, Harry, who's always badgering her about money, and a charming but unreliable grandson.

…is a root…

Harry Rigsby is retired, but these years aren't exactly golden for him. He's been reduced to eating ketchup sandwiches when his Social Security check doesn't stretch to cover the whole month. It just isn't fair. He has long suspected his mother of rat-holing money, but she won't admit it. Trouble is, if he doesn't find out before her mind goes, he'll never see a penny of it.

…of all kinds of evil.

Sally Cox is drowning in debt and resentful that her job at the nursing home doesn't pay enough. When Mrs. Rigsby tells her and a coworker that she's hidden money from her greedy son, the coworker devises the perfect scheme to end Sally's financial woes—and opens a door to something evil!

Poor Mrs. Rigsby explores the pitfalls of financial worry, the wages of greed, and the God who has promised to be a refuge from both.

Story Behind the Book

I've been dismayed by the financial abuse of people in power—corporate CEOs, trusted religious leaders, and even heads of households—whose mismanagement and greed have inflicted hardship on many a victim. But I wrote Poor Mrs. Rigsby to show what can happen when victims justify using dishonest means in an effort to regain control of their financial ture. It's my hope that this story will challenge believers to take an honest look at where they draw the line between their own striving for financial purity—and trusting God to provide what they need.
Read more
Close