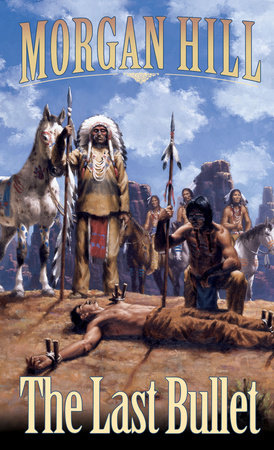 The Last Bullet
Morgan Hill
About the Book
Clay Bostin's fortune changes quickly on the Nebraska plains. Left to die in excruciating pain by marauding Indians, he is rescued by a wagon train and nursed back to health by lovely Rachel Flanagan. Soon afterwards, the Cheyenne attack, and Clay is chosen to replace their fallen trail boss. Now it's his fate to protect the pioneers from the relentless assault of the Cheyenne warriors. What will happen if brutal Black Hawk reached the beautiful girl?

Blood on the Plains

Stranded in Indian territory, rugged Clay Bostin signs on with a wagon train as trail boss. He soon discovers the fiery charms of beautiful Rachel Flanagan, but he barely has time to romance her before the Cheyenne warriors begin a vicious attack.

Day after day, the galloping painted ponies appear and the Indians relentlessly assault the helpless wagon train. If time and hope run out, Clay may have to take drastic measures to spare Rachel from Chief Black Hawk's brutality...
Read more
Close