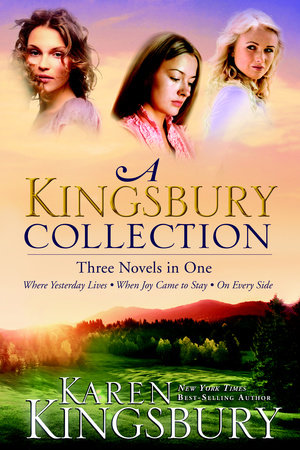 Read an Excerpt
A Kingsbury Collection
Three Novels in One: Where Yesterday Lives, When Joy Came to Stay, On Every Side
Karen Kingsbury
About the Book
Three Page-Turning Novels in One Volume!

Where Yesterday Lives

Ellen Barrett is a Pulitzer prize-winning journalist with an uncertain marriage, a forgotten faith, and haunting memories of her picturesque hometown and the love she left behind. The eldest of five siblings, she longs for the time, long ago, when they were a happy family. Now Ellen's beloved father is dead, and she returns to her childhood home to make peace–with the people who still live there, with the losses and changes that time has wrought, and with the future God has set before her.

When Joy Came to Stay

Maggie Stovall is one of the golden people. She has it all together...at least on the surface. Ben Stovall is a godly husband and successful attorney. He has no idea of the darkness about to overtake his life. Amanda Joy is a child of society–abused, broken, thrown away. But her trust in God is still alive. When Joy Came to Stay is the heart-wrenching story of one woman's descent into the shadows of depression, her husband's search for understanding, and a precious child's unwavering faith.

On Every Side

Faith Evans is an up-and-coming newscaster, a woman of honor and integrity who must take a stand against the one man she never imagined would be her enemy. A beloved, hundred-year-old statue of Jesus stands in a small-town park–but some say it's a clear violation of separation of church and state that must come down. Jordan Riley is a powerful attorney fighting for human rights and against God, but still reckoning with bitter boyhood losses. Amid political intrigue, social injustice, and personal conflicts, will love be enough when the battle rages on every side?


What Readers Are Saying About KAREN KINGSBURY Fiction…

"All–and I do mean all–of Karen Kingsbury's books have touched my spiritual life in a deep way. I have recommended her books to men and women alike!"
–Debbie, Marana, AZ

"Karen Kingsbury's Christian fiction is the standard by which I judge all Christian fiction."
–Robin, Fairfax, VA

"Karen Kingsbury is our book club's favorite author. We often discuss how each of her novels not only entertain us, but inspire us to live out our faith in a real, everyday, every moment way."
–Lynda, Covington, WA

"Karen's books never cease to amaze me. After reading one, I not only feel connected to the characters and the events, I feel I've walked in the presence of Christ and He's spoken mightily to me. I always cry when I finish one…tears of good-bye to the friends I've come to love and tears of thankfulness to my heavenly Father. I can' t wait to read the next one!"
–Linda, Batavia, IL

Story Behind the Book

Each of my novels is a piece of my heart. Where Yesterday Lives was my first-ever novel, and as such it is somewhat autobiographical. The childhood story of Ellen Barrett, her love for her parents and siblings, is my story–though her current story and struggles are fictional. On Every Side sheds light on the struggle for religious freedom in today's climate, something I am passionate about. Finally, When Joy Came to Stay is the story of one woman's battle against depression and the secrets of her past.
Read more
Close