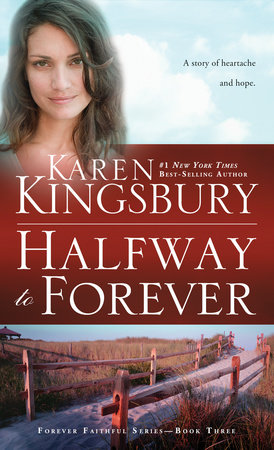 Read an Excerpt
Halfway to Forever
Karen Kingsbury
Mass Market Paperback
Ebook
Paperback
About the Book
You wept with them as they were Waiting for Morning
You shared their Moment of Weakness
Now they face the greatest struggles of their lives.

Matt and Hannah Bronzan have found a new life in the face of devastating loss.  Together with Hannah's daughter, Jenny, they are finally moving forward—toward the adoption of a little girl. A younger sister for Jenny, a daughter for them to love and raise together. But just when the dream seems to be coming true, disaster strikes. Can Hannah survive the loss of another daughter?

Jade and Tanner Eastman love the Bronzans. Matt and Tanner are partners in a successful religious freedom law firm, and the two couples share a great deal. Not the least of which has been Jade and Tanner's struggle to have children.  When they discover Jade is pregnant, their joy is boundless. Until the joyous event becomes a threat to Jade's very life. Will Tanner come through decades of loneliness only to face losing Jade one final time?

Caught in a desperate battle against all that threatens to derail their faith and sideline their futures, these four struggle together to depend daily on God, regardless of what comes against them, as they journey halfway to forever.
Read more
Close