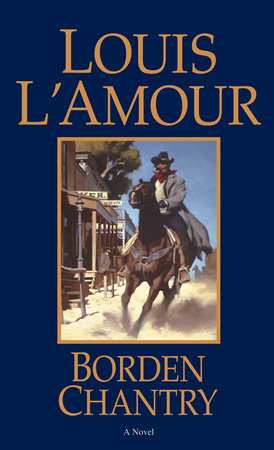 Read an Excerpt
Borden Chantry (Louis L'Amour's Lost Treasures)
Louis L'Amour
Ebook
Mass Market Paperback
About the Book
As part of the Louis L'Amour's Lost Treasures series, this edition contains exclusive bonus materials!

The marshal's name was Borden Chantry. Young, lean, rugged, he's buried a few men in this two-bit cow town—every single one killed in a fair fight. Then, one dark, grim day a mysterious gunman shot a man in cold blood. Five grisly murders later, Chantey was faced with the roughest assignment of his life—find that savage, trigger-happy hard case before he blasts apart every man in town . . . one by bloody one.

Louis L'Amour's Lost Treasures is a project created to release some of the author's more unconventional manuscripts from the family archives.
 
In Louis L'Amour's Lost Treasures: Volumes 1 and 2, Beau L'Amour takes the reader on a guided tour through many of the finished and unfinished short stories, novels, and treatments that his father was never able to publish during his lifetime. L'Amour's never-before-seen first novel, No Traveller Returns, faithfully completed for this program, is a voyage into danger and violence on the high seas.

Additionally, many beloved classics are being rereleased with an exclusive Lost Treasures postscript featuring previously unpublished material, including outlines, plot notes, and alternate drafts. These postscripts tell the story behind the stories that millions of readers have come to know and cherish.


Read more
Close