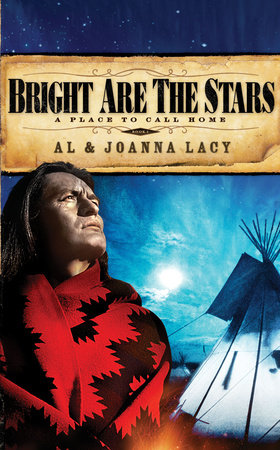 Bright Are the Stars
Al Lacy
About the Book
Heavens Shine Above New Beginnings

1839. The North Carolina Cherokees are settling into their new home in Indian Territory and Britt Claiborne and Cherokee Rose are settling into married life. Britt, a quarter Cherokee Indian, is released from the United States army and joins the Cherokee Police Force where his position takes him into fearsome and heart-gripping dangers. They raise two children with much love and delight. They also lean on God through the trials of their day—including the death of the popular Cherokee Chief Sequoyah, who had translated the Bible into their language. Follow the historical events that punctuate their lives until 1889, when President Harrison announces that whites are free to enter Indian Territory , now known by the Indians as home.

Story Behind the Book

Long captivated with the study of American history, Al and JoAnna Lacy eagerly researched the time in the 1800s when five American Indian tribes were forced by the U.S. government to make a one-thousand-mile journey to Indian Territory (now the state of Oklahoma). The tribes were the Cherokee, the Chickasaw, the Choctaw, the Creek, and the Seminole. Repeatedly forced to surrender their lands, the people of the Cherokee Nation, as well as those of the other four tribes, were hoping to find in Indian Territory a place to call home.
Read more
Close