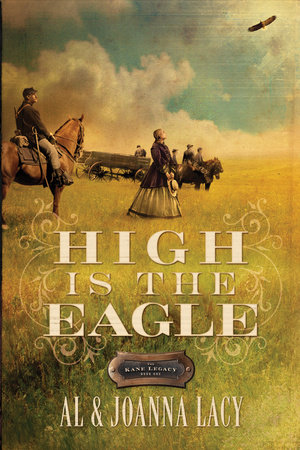 Read an Excerpt
High Is the Eagle
Al and JoAnna Lacy
About the Book
The Kane brothers fight for their family's freedom–and survival– as the Kane Legacy trilogy soars to a stunning conclusion.

In this gripping final installment of the Kane Legacy series, the Kane family is caught in the midst of the Mexican-American War. And in this time of conflict and fear, their faith and courage are gravely tested.

After the tragic battle of Palo Alto and Resaca de la Guerrero, General Zachary Taylor sends Alamo Kane and his brothers Alex and Able home to rest and enjoy a joyous reunion with their family. Soon it becomes clear that–despite hopes for peace–Santa Anna is planning an attack on American soldiers. Alamo and his brothers join General Taylor to head off the threat.

With their family back at the ranch in constant worry, the Kane brothers must fight for their freedom. But with Mexican spies infiltrating Texas towns, the brothers are not the only ones in danger. As the Kanes come face-to-face with death, they discover they need far more than bravery on their side.

In High Is the Eagle, Al and JoAnna Lacy have created a thrilling final chapter in this amazing historical fiction series marked by faith, love, and courage.
Read more
Close