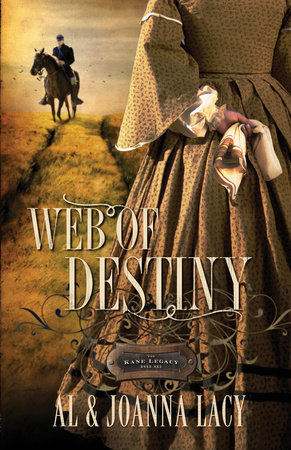 Read an Excerpt
Web of Destiny
Al and JoAnna Lacy
About the Book
The Kane Legacy: faith, love, courage, and strength. In nineteenth-century Texas, they're going to need it.


Alan Kane lost a beloved brother at the Alamo and grieves terribly. His one consolation is that he will be reunited with Adam someday in heaven. Meanwhile the United States seems to be caught in a web of destiny to fight Mexico. When General Sam Houston prepares to face off against General Santa Anna, the three remaining Kane brothers volunteer once again, leaving their heavy-hearted wives on the Diamond K Ranch. Who will return this time when the guns are silent and the dust has settled?

Can Alan let go of his brother Adam and freely love the woman he left behind? Can the Kane men make a difference in the war that threatens to destroy all they've worked to build? And will peace ever be theirs amid the rages of war?

Spanning a decade in the lives of the Kane family, Web of Destiny follows a loving Christian family through victory, loss, guilt, tears, and valor. It will stir the heart of anyone who has ever loved, lost, or sacrificed for a cause.

Read more
Close