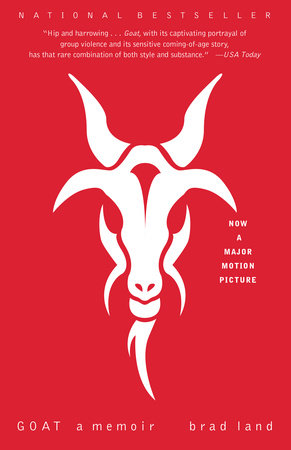 Read an Excerpt
About the Book
NOW A MAJOR MOTION PICTURE • This searing memoir of fraternity culture and the perils of hazing provides an unprecedented window into the emotional landscape of young men.

Reeling from a terrifying assault that has left him physically injured and psychologically shattered, nineteen-year-old Brad Land must also contend with unsympathetic local police, parents who can barely discuss "the incident" (as they call it), a brother riddled with guilt but unable to slow down enough for Brad to keep up, and the feeling that he'll never be normal again.

When Brad's brother enrolls at Clemson University and pledges a fraternity, Brad believes he's being left behind once and for all. Desperate to belong, he follows. What happens there—in the name of "brotherhood," and with the supposed goal of forging a scholar and a gentleman from the raw materials of boyhood—involves torturous late-night hazing, heartbreaking estrangement from his brother, and, finally, the death of a fellow pledge. Ultimately, Brad must weigh total alienation from his newfound community against accepting a form of brutality he already knows too well.
Read more
Close