Apple Palm Pies
From Time to Eat: Delicious Meals for Busy Lives: A Cookbook by Nadiya Hussain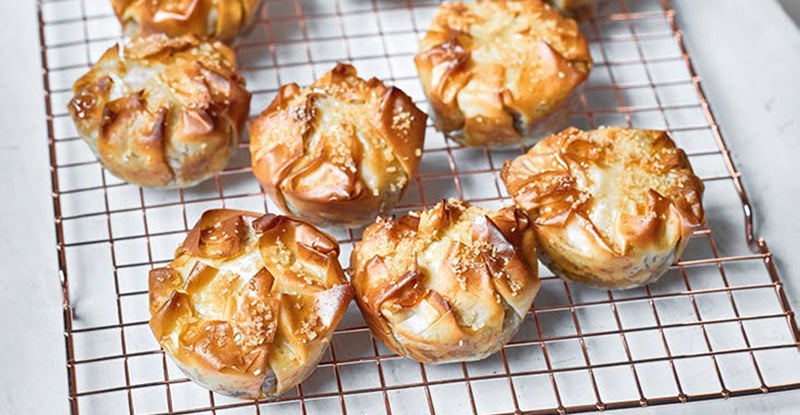 These are so easy and quick, because there is no peeling of apples, no coring or chopping, so you can have your pie and eat it too. The filling is a mixture of applesauce mixed with spices, dried fruit, and nuts, then wrapped in filo, perfect enough to fit in the palm of your hand and in your mouth, in a bite, or two. They freeze well, so when you need pie, be it for yourself or for guests, you're always one step ahead.
Makes: 12
Active Time: 20 Minutes
Total Time: 45 Minutes
INGREDIENTS
2 x 10-oz jars of chunky applesauce
½ teaspoon pumpkin pie spice
⅓ cup mixed nuts, or nuts of your choice, roughly chopped
⅓ cup raisins
Cooking oil spray
10 oz package of filo pastry, or 6 sheets
Demerara sugar, for sprinkling
STEPS
Put the applesauce, pumpkin pie spice, nuts, and raisins into a bowl, stir well, and set aside.
Preheat the oven to 400°F. Have a 12-hole muffin pan at the ready. Spray the inside of each hole liberally with oil.
Unroll the filo pastry onto a work surface. Stack all 6 sheets on top of each other and, using kitchen scissors, cut out all the pastry in one go to make 8 equal squares, which should give you 48 squares in total. Keep the squares you're not working with under a tea towel to prevent them drying out.
Take 1 square of filo and spray it with oil, lay another square on top, spray again, then lay another on top and spray again. You should have three squares oiled together. It doesn't matter if the squares are a bit off-center. Place inside an oiled cavity of the muffin pan, press down, and repeat this process until you have filled all 12 holes in the muffin pan.
Fill each hole with an equal amount of the apple filling.
Take another square of filo and spray well, then fold in half and in half again to create a small square. Place the small square on top of the apple mixture and fold the pointy edges inward. If any areas feel dry, spray with oil. Repeat for all 12, then sprinkle with sugar and bake for 14 to 16 minutes.
Let cool in the pan for 10 minutes. These are best eaten warm, with ice cream or custard.
Any leftover pies can be cooled and frozen. I know 12 wouldn't last very long in my household, so due to the ease of making these, why not double the ingredients and make another full 12 to freeze, providing you have freezer space!
ABOUT THE BOOK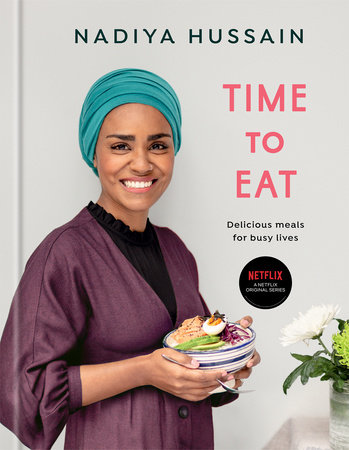 Learn More
Time to Eat
Delicious Meals for Busy Lives: A Cookbook
Nadiya Hussain
From the host of the beloved Netflix series Time to Eat and winner of The Great British Baking Show come over 100 time-smart recipes to tackle family mealtime.

Nadiya Hussain knows that feeding a family and juggling a full work load can be challenging. Time to Eat solves mealtime on weeknights and busy days with quick and easy recipes that the whole family will love. Nadiya shares all her tips and tricks for making meal prep as simple as possible, including ideas for repurposing leftovers and components of dishes into new recipes, creating second meals to keep in the freezer, and using shortcuts--like frozen foods--to cut your prep time significantly.

In Time to Eat, Nadiya teaches you to make recipes from her hit Netflix show, including Peanut Butter & Jelly Traybake, Instant Noodles, Egg Rolls, and zesty Marmalade Haddock. Each recipe also notes exactly how long it will take to prepare and cook, making planning easy. Helpful icons identify which recipes can be made ahead, which ones are freezer-friendly, and which ones can be easily doubled.
Read more
Close