Citrus Chicken Rested in Herbs
From Nothing Fancy: Unfussy Food for Having People Over, by Alison Roman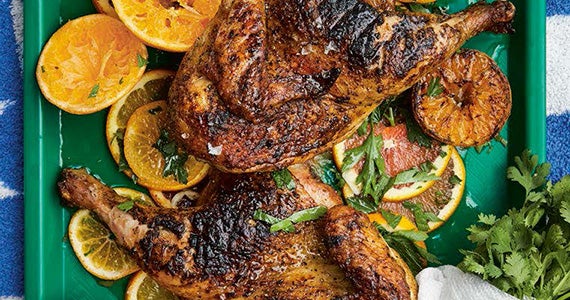 Grilling a chicken that's been marinated and basted in sweet, tangy citrus, a bit of salty soy sauce, and a good amount of funky, spicy something (like yuzu kosho, Japanese fermented chili paste) is simple and pleasant and gets along with everything—kind of like your favorite T-shirt that you wear over and over again, or your really nice neighbor who always brings packages in for you when you're out of town. It's just a really good chicken, and honestly, sometimes that's all you need.
Since this marinade is so agreeable and the technique so straightforward, it's an excellent opportunity to add vegetables to cook alongside the chicken, if you like. Pick something quick cooking, like sliced fennel, a bunch of scallions, quartered radishes, or fresh chiles.
While the default here is for roasting, I've also included instructions for grilling, since this particular marinade works extremely well with the deep, smoky, charred flavors that come from the grill. If grilling, feel free to add some additional cut citrus so that it can char alongside the chicken, perfect for squeezing over when serving.
INGREDIENTS
½ cup fresh lime or lemon juice (from 4–6 lemons or limes), plus 1 lime or lemon, thinly sliced
½ cup fresh orange juice, plus 1 orange, thinly sliced, seeds removed
½ cup soy sauce
2 tablespoons canola oil, plus more
2 tablespoons yuzu kosho or sambal, or 1 jalapeño, finely chopped
2 garlic cloves, finely grated
Kosher salt and freshly ground black pepper
3½- to 4-pound chicken, halved lengthwise through the backbone (see Note, page 216), or bone-in, skin-on parts
½ cup fresh cilantro, tender leaves and stems, coarsely chopped
½ cup fresh parsley, tender leaves and stems, coarsely chopped
A few sprigs fresh rosemary, thyme, oregano, or marjoram (optional)
STEPS
To make the marinade, combine the lime juice, orange juice, soy sauce, oil, yuzu kosho, and garlic in a medium bowl and season with salt and pepper. Set about half aside for later, and add the rest of the marinade to a large bowl, resealable bag, or baking dish. Add the chicken, tossing to coat well. Let it sit in the marinade for a while (at least 30 minutes, but up to 24 hours, in the refrigerator).
Preheat the oven to 450°F. (Alternatively, heat a grill to medium heat, with cooler coals or low flames on one side. You can grill the chicken over hotter flames, but it can be challenging to manage; for beginners, it's good to err on the side of the coals being slightly cooler than slightly hotter.)
Remove the chicken from the marinade (discarding the marinade the chicken was sitting in) and place skin side up on a rimmed baking sheet. Roast until the skin is deeply browned and lightly charred and the chicken is cooked through, 35 to 45 minutes; no need to flip or turn the chicken. (Alternatively, place the chicken skin side down on the grill and cover; make sure the vents are open. Let it grill, resisting the urge to turn or check too frequently, until it's nicely golden brown with those cute little grill marks, 10 to 12 minutes; just like when you're searing chicken in a skillet, the skin will release effortlessly once it's cooked and golden. Attempting to move it beforehand will probably tear the skin and maybe ruin your day! Using your finest and largest tongs, carefully flip the chicken and cover so that it continues to grill and cook on the other side, another 10 to 12 minutes. Flip once more, skin side down, and add a few halves of cut citrus. Continue to grill another 5 to 8 minutes, to recrisp the skin and finish cooking through.)
Place the remaining citrus slices on a platter or cutting board and scatter with the herbs. Place the cooked chicken on top, skin side up, and pour the reserved marinade over. Let the chicken rest for 10 to 20 minutes, allowing its juices to mingle with the fresh citrus and herbs. Carve the chicken into pieces before serving.
DO AHEAD: Chicken can be cooked a few hours ahead, loosely covered with foil, and kept at room temperature. Serve either at room temperature or throw it back into a 450°F oven (or on the grill) for a quick reheat.
ABOUT THE BOOK
Learn More
Nothing Fancy
Unfussy Food for Having People Over
Alison Roman
NEW YORK TIMES BESTSELLER • The social media star, New York Times columnist, and author of Dining In helps you nail dinner with unfussy food and the permission to be imperfect.
 
"Enemy of the mild, champion of the bold, Ms. Roman offers recipes in Nothing Fancy that are crunchy, cheesy, tangy, citrusy, fishy, smoky and spicy."—Julia Moskin, The New York Times

IACP AWARD FINALIST • NAMED ONE OF THE BEST COOKBOOKS OF THE YEAR BY The New York Times Book Review • The New Yorker • NPR • The Washington Post • San Francisco Chronicle • BuzzFeed • The Guardian • Food Network
 
An unexpected weeknight meal with a neighbor or a weekend dinner party with fifteen of your closest friends—either way and everywhere in between, having people over is supposed to be fun, not stressful. This abundant collection of all-new recipes—heavy on the easy-to-execute vegetables and versatile grains, paying lots of close attention to crunchy, salty snacks, and with love for all the meats—is for gatherings big and small, any day of the week.
 
Alison Roman will give you the food your people want (think DIY martini bar, platters of tomatoes, pots of coconut-braised chicken and chickpeas, pans of lemony turmeric tea cake) plus the tips, sass, and confidence to pull it all off. With Nothing Fancy, any night of the week is worth celebrating.

Praise for Nothing Fancy

"[Nothing Fancy] is full of the sort of recipes that sound so good, one contemplates switching off any and all phones, calling in sick, and cooking through the bulk of them."—Food52
 
"[Nothing Fancy] exemplifies that classic Roman approach to cooking: well-known ingredients rearranged in interesting and compelling ways for young home cooks who want food that looks (and photographs) as good as it tastes."—Grub Street
Read more
Close