Fudgy Chocolate Cake with Fluffy Chocolate
From Snacking Cakes: Simple Treats for Anytime Cravings by Yossy Arefi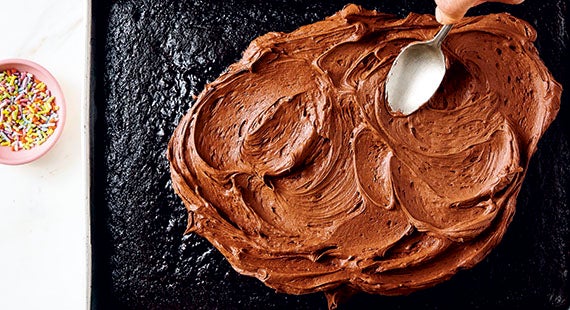 This cake is dense, fudgy, and super chocolatey. The buttercream frosting pushes it directly into dessert territory, but sometimes you just need a fluffy frosting cap on your cake to turn your day around.
FUDGY CHOCOLATE
INGREDIENTS
1 cup (200g) granulated sugar
2 large eggs
1 cup (240ml) buttermilk, well shaken
1/4 cup (60ml) neutral oil, like canola or grapeseed
1/4 cup (55g) unsalted butter, melted
1 teaspoon vanilla extract
3/4 teaspoon kosher salt
3/4 cup (68g) unsweetened Dutch process cocoa powder
1 cup (128g) all-purpose flour
1 teaspoon baking powder
1/2 teaspoon baking soda
1/4 cup (60ml) hot coffee or water
1/3 cup (55g) chopped bittersweet chocolate or chocolate chips (optional)
FLUFFY CHOCOLATE FROSTING
INGREDIENTS
6 tablespoons (85g) unsalted butter,very soft
1/4 cup (23g) unsweetened Dutch process cocoa powder
1 cup (100g) confectioners' sugar
1 teaspoon vanilla extract
Pinch of salt
2 to 3 tablespoons milk
Shaved chocolate or sprinkles, to finish
STEPS
Position a rack in the center of your oven and preheat the oven to 350.F. Butter or coat an 8-inch square baking pan with nonstick spray. Line the pan with a strip of parchment paper that hangs over two of the edges.
MAKE THE CAKE: In a large bowl, whisk the sugar and eggs until pale and foamy, about 1 minute. Add the buttermilk, oil, butter, vanilla, and salt. Whisk until smooth and emulsified. Add the cocoa powder and whisk until smooth.
Add the flour, baking powder, and baking soda and whisk until well-combined and smooth. Gently stir in the coffee, then fold in the chocolate (if using).
Pour the batter into the prepared pan, tap the pan gently on the counter to release any air bubbles, and smooth the top of the batter with an offset spatula.
Bake the cake until puffed and a tester inserted into the center comes out clean, 35 to 45 minutes. Set the pan on a rack to cool for about 15 minutes. Then use the parchment paper to lift the cake out of the pan and set it on the rack to cool completely.
MAKE THE FROSTING: Add the butter to a large bowl and mix with an electric mixer on medium-high until smooth and creamy. Turn the mixer to low, add the cocoa powder, and mix until smooth, scraping the bottom and sides of the bowl as necessary, then slowly add the confectioners' sugar. Mix until the sugar is moistened, then add the vanilla, a pinch of salt, and2 tablespoons milk. Turn the mixer to medium high and whip until light and fluffy, adding more milk as necessary to make a smooth and fluffy frosting.
Top the cooled cake with swoops of frosting and scatter the shaved chocolate or sprinkles over the top. (Store the cake, covered, at room temperature or in the fridge for up to three days.)
USE ANOTHER PAN
LOAF: Bake in a 9 x 5 x 3-inch loaf pan until puffed and a skewer inserted into the center comes out clean, 50 to 60 minutes.
ROUND: Bake in a 9-inch round pan until puffed and a tester inserted into the center comes out clean, 35 to 45 minutes.
SHEET: Double the ingredients for the cake and bake in a 9 x 13-inch pan until puffed and a tester inserted into the center comes out clean,40 to 50 minutes. Double the ingredients for the frosting, too.
DRESS IT UP
Serve slices of cake with ice cream if you really want to take this cake to party-town.
ABOUT THE BOOK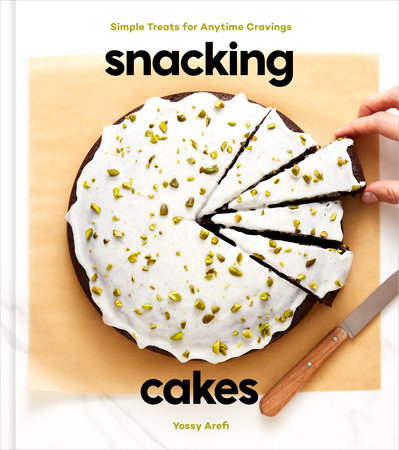 Learn More
Snacking Cakes
Simple Treats for Anytime Cravings: A Baking Book
Yossy Arefi
Find sweet satisfaction with 50 easy, everyday cake recipes made with simple ingredients, one bowl, and no fuss.

IACP AWARD WINNER • NAMED ONE OF THE BEST COOKBOOKS OF THE YEAR BY Bon Appétit • The New York Times Book Review • Epicurious • Town & Country

"[Snacking Cakes] hits the sweet spot. . . . Cake for breakfast? Yes, please!"—Martha Stewart Living

In Snacking Cakes, the indulgent, treat-yourself concept of cake becomes an anytime, easy-to-make treat. Expert baker Yossy Arefi's collection of no-fuss recipes is perfect for anyone who craves near-instant cake satisfaction.

With little time and effort, these single-layered cakes are made using only one bowl (no electric mixers needed) and utilize ingredients likely sitting in your cupboard. They're baked in the basic pans you already own and shine with only the most modest adornments: a dusting of powdered sugar, a drizzle of glaze, a dollop of whipped cream. From Nectarine and Cornmeal Upside-Down Cake and Gingery Sweet Potato Cake to Salty Caramel Peanut Butter Cake and Milk Chocolate Chip Hazelnut Cake, these humble, comforting treats couldn't be simpler to create. Yossy's rustic, elegant style combines accessible, diverse flavors in intriguing ways that make them easy for kids to join in on the baking, but special enough to serve company or bring to potlucks.

Whether enjoyed in a quiet moment alone with a cup of morning coffee or with friends hungrily gathered around the pan, these ever-pleasing, undemanding cakes will become part of your daily ritual.
Read more
Close