Olive Oil Chocolate Chunk Cookies
Recipe from Life is What You Bake It
by Vallery Lomas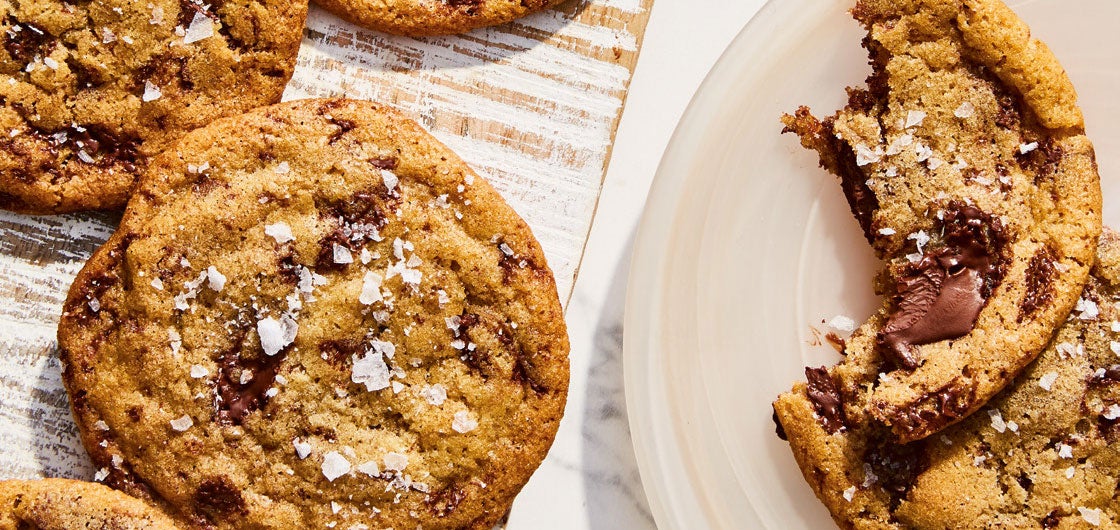 A good chocolate chip cookie isn't just about taste—it's also about texture. The combination of both olive oil and butter in this cookie yields a buttery, delicious cookie with a texture that's the best of both worlds: crispy edges and a chewy center. This is my upgraded version of a chocolate chip cookie, and the results are Insta-worthy and dizzyingly appetizing cookies.
INGREDIENTS
1½ cups (185g) all-purpose flour
½ teaspoon baking powder
½ teaspoon baking soda
½ teaspoon kosher salt
1⁄3 cup (80ml) extra-virgin olive oil
3 tablespoons (45g) unsalted butter, room temperature
¾ cup (150g) packed light or dark brown sugar
¼ cup (50g) granulated sugar
1 large egg, room temperature
1 teaspoon vanilla extract
6 ounces semisweet or bittersweet chocolate (chips or ½-inch chunks)
Flaky sea salt (optional)
STEPS
1. Preheat the oven to 350°F and place a rack in the center of the oven. Line 2 baking pans with parchment paper and set aside.
2. In a large bowl, whisk the flour, baking powder, baking soda, and kosher salt together. Set aside.
3. Combine the olive oil, butter, brown sugar, and granulated sugar in the bowl of a stand mixer fitted with the paddle attachment. Mix on medium speed until combined, about 3 minutes. Once homogeneous, reduce the speed to low and add the egg and vanilla. Mix until combined.
4. Add the dry ingredients to the mixer and mix on low speed until just combined. Add the chocolate chips and mix for a couple of seconds. Remove the bowl and finish combining with a wooden spoon or a sturdy spatula.
5. Form 18 balls of dough, about 40 grams— a heaping 2 tablespoons—each. Place 9 balls of dough on each sheet. Bake until browned and set around the edges, 12 to 15 minutes. Remove from the oven and let cool slightly on a cooling rack before serving. Sprinkle with flaky sea salt, if desired.
Storage These are best within the first 2 days, though they can be stored in an airtight container for up to 1 week, or the dough may be frozen in balls in a sealed freezer bag for up to 2 months. They can be baked frozen.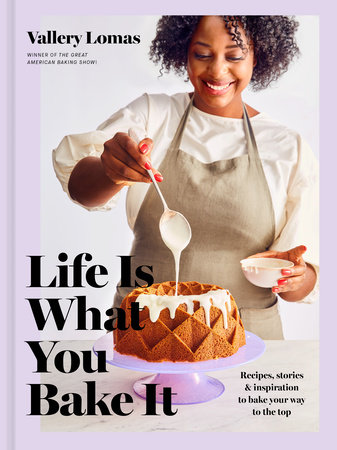 Learn More
Life Is What You Bake It
Recipes, Stories, and Inspiration to Bake Your Way to the Top: A Baking Book
Vallery Lomas
ONE OF THE TEN BEST COOKBOOKS OF THE YEAR: Boston Globe • ONE OF THE BEST COOKBOOKS OF THE YEAR: Food Network, The Washington Post, Time Out, Glamour, Taste of Home, Southern Living, Library Journal

"As much about a collection of recipes that makes your mouth water and tugs at your heart with food memories as it is about the chronicles and life lessons of a true comeback kid."—Carla Hall

Popular baking personality and lawyer turned baker Vallery Lomas debuts her first baking book celebrating more than 100 recipes for everything from Apple Cider Fritters to Lemon-Honey Madeleines and Crawfish Hand Pies to her Grandma's Million Dollar Cake. Vallery shares heirloom family recipes from her native Louisiana, time spent in Paris, The Great American Baking Show (which she famously won!), and of course sweets and breads inspired by her adopted hometown, New York City. Vallery's "when life gives you lemons, make lemon curd" philosophy will empower legions of bakers and fans to find their inner warrior and bake their best life.

"Life Is What You Bake It is not only a collection of recipes but also an empowering book that shows us there's often more possible than we can even imagine."—Julia Turshen, bestselling author of Simply Julia, host of Keep Calm and Cook On podcast, and founder of Equity at the Table


Read more
Close