Pizza Salad
From The Weekday Vegetarians: 100 Recipes and a Real-Life Plan for Eating Less Meat by Jenny Rosenstrach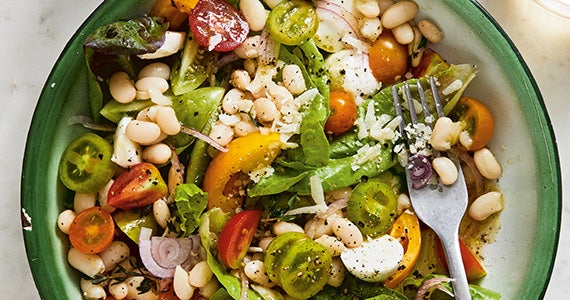 This recipe was born of my desire to add protein to one of our family's favorite vegetarian dinners: salad pizza, you top a tomato pizza with an Italian-dressing-dressed salad; see page 40. One night, I served salad pizza with a side dish of brothy white beans, storing both leftovers together in a container for lunch the next day. That next day was like a "Who Put His Chocolate in My Peanut Butter" moment—I couldn't believe how well the salad and the beans melded together. If you have thought to marinate your beans a few hours ahead of time, you will appreciate their deeper flavor in this salad. However, even if you just let the beans swim in olive oil, red wine vinegar, and some fresh herbs for 15 minutes (roughly as long as it takes to assemble the rest of this), you'll be satisfied with the results. And it goes without saying that this salad is particularly welcome in August and September, when tomatoes are peaking and warm summer days call for minimally invasive cooking.
INGREDIENTS
3 cups Marinated Beans (see below)
1 large bunch Bibb or Little Gem lettuce, torn (about 8 cups)
2 cups quartered or sliced tomatoes, preferably grape or fresh, ripe, and sweet heirlooms
2 tablespoons finely minced red onion
1 cup halved bocconcini (small mozzarella balls) or ½-inch cubes fresh mozzarella
8 large fresh basil leaves, chopped
1/4 cup grated Parmesan cheese
Hand-Torn Croutons (see below) (optional)
STEPS
If you haven't already, prepare the marinated beans and let them sit at least 15 minutes.
In a large shallow bowl, toss the lettuce, tomatoes, onion, bocconcini, basil, and Parmesan. Toss in the beans with their marinade, and croutons (if using) and serve.
MARINATED BEANS
INGREDIENTS
1/4 cup red wine vinegar
1/3 cup extra-virgin olive oil
1 garlic clove, halved
Kosher salt and freshly ground black pepper to taste
8 fresh basil leaves, chopped, or 1 rosemary sprig, left whole
Shake of dried red pepper flakes
3 cups cooked beans, such as cranberry, cannellini, or great northern, or 2 (15-ounce) cans, rinsed and drained
STEPS
In a medium bowl, whisk together the vinegar, olive oil, garlic, salt, black pepper, basil, and red pepper flakes. Toss in the beans, stir, cover with plastic wrap, and let marinate in the refrigerator for as long as you have—up to overnight, tossing every hour when possible. Keeps in the refrigerator for 3 to 5 days. (Makes 4 small plate portions.)
HAND-TORN CROUTONS
INGREDIENTS
4 cups roughly torn (1-inch) bread pieces (any kind, including crusts)
1/4 teaspoon garlic powder
1/2 teaspoon kosher salt
Up to 1/3 cup extra-virgin olive oil
STEPS
Preheat the oven to 400°F. Line a sheet pan with foil.
In a large bowl, toss the bread pieces with the garlic powder and salt. Drizzle in just enough olive oil to coat the bread, not drench it. (This will be somewhere between ¼ and ¹⁄³ cup, depending on what kind of bread you use.)
Spread the croutons out on the prepared sheet pan and bake until crunchy and golden, 10 to 12 minutes. Let cool before using.
ABOUT THE BOOK
Learn More
The Weekday Vegetarians
100 Recipes and a Real-Life Plan for Eating Less Meat: A Cookbook
Jenny Rosenstrach
You don't need to be a vegetarian to eat like one! With over 100 recipes, the New York Times bestselling author of Dinner: A Love Story and her family adopt a "weekday vegetarian" mentality.

NAMED ONE OF THE BEST COOKBOOKS OF THE YEAR BY TIME OUT AND TASTE OF HOME • "Whether you're vegetarian or not (or somewhere in-between), these recipes are fit to become instant favorites in your kitchen!" —Molly Yeh, Food Network host and cookbook author

Jenny Rosenstrach, creator of the beloved blog Dinner: A Love Story and Cup of Jo columnist, knew that she wanted to eat better for health reasons and for the planet but didn't want to miss the meat that she loves. But why does it have to be all or nothing? She figured that she could eat vegetarian during the week and save meaty splurges for the weekend. The Weekday Vegetarians shows readers how Jenny got her family on board with a weekday plant-based mentality and lays out a plan for home cooks to follow, one filled with brilliant and bold meat-free meals.

Curious cooks will find more than 100 recipes (organized by meal type) for comforting, family-friendly foods like Pizza Salad with White Beans, Cauliflower Cutlets with Ranch Dressing, and Squash and Black Bean Tacos. Jenny also offers key flavor hits that will make any tray of roasted vegetables or bowl of garlicky beans irresistible—great things to make and throw on your next meal, such as spiced Crispy Chickpeas (who needs croutons?), Pizza Dough Croutons (you need croutons!), and a sweet chile sauce that makes everything look good and taste amazing. The Weekday Vegetarians is loaded with practical tips, techniques, and food for thought, and Jenny is your sage guide to getting more meat-free meals into your weekly rotation.

Who knows? Maybe like Jenny's family, the more you practice being weekday vegetarians, the more you'll crave this food on the weekends, too!
Read more
Close