Potato Salad
From Rodney Scott's World of BBQ: Every Day is a Good Day by Rodney Scott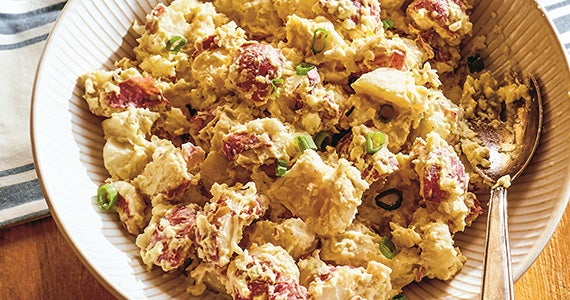 Sometimes we'd have potato salad with Sunday dinner, but mostly we had it as a barbecue side dish. It was definitely one of my favorites. Still is. I think it's the sweet-spicy-sour interplay between the sweet pickles, the mayonnaise, and the mustard that I like so much. Using red-skinned potatoes gives you a creamier result than russet potatoes. It's best to dress the potatoes when they're still hot. That not only gets the seasoning into the potatoes quicker, it also creates a balanced texture for a mighty fine potato salad.
FOR THE POTATOES
INGREDIENTS
1¾ teaspoons Diamond Crystal kosher salt
3½ pounds red-skinned potatoes, skin on, washed and quartered
FOR THE DRESSING
INGREDIENTS
2 cups Duke's mayonnaise
¼ cup yellow mustard (French's or whatever you prefer)
½ cup distilled white vinegar
¼ cup fresh lemon juice
½ cup sweet pickle relish
1 tablespoon Diamond Crystal kosher salt
2 teaspoons sugar
2 teaspoons freshly ground black pepper
½ teaspoon red pepper flakes
¼ teaspoon cayenne pepper
½ cup finely diced celery (1 to 2 stalks)
½ cup finely diced red onion (about 1 medium onion)
FOR THE SALAD
INGREDIENTS
4 hard-boiled eggs, peeled
1½ tablespoons Rib Rub (page 205)
¼ cup thinly sliced scallions (optional), white and green parts (about 2 scallions)
STEPS
Cook the potatoes: Bring a large saucepan of water to a boil. Add the salt and quartered potatoes. Reduce the heat and gently boil the potatoes until they yield easily when a knife is inserted through their centers, 15 to 20 minutes.
While the potatoes are cooking, make the dressing: In a large bowl, combine the mayo, mustard, vinegar, lemon juice, relish, salt, sugar, black pepper, pepper flakes, and cayenne and mix until incorporated. Whisk in the celery and red onion. Taste and adjust the seasoning if needed.
Make the salad: Once the potatoes are tender, drain them and add them (while hot) to the bowl with the dressing. Use a large spoon to break up the potatoes to really get the dressing into everything while the potatoes are hot.
Chop the eggs to your liking or press them through a sieve to break them up into fine bits. Fold the eggs into the salad. Finish the salad with a sprinkle of rib rub and the sliced scallions (if using).
ABOUT THE BOOK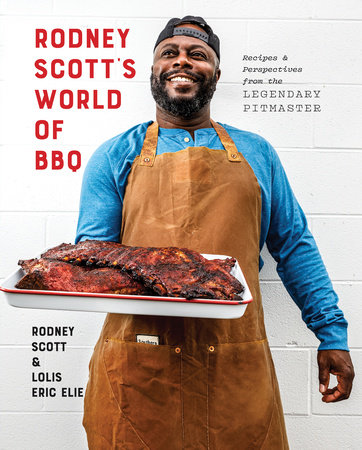 Learn More
Rodney Scott's World of BBQ
Every Day Is a Good Day: A Cookbook
Rodney Scott and Lolis Eric Elie
In the first cookbook by a Black pitmaster, James Beard Award–winning chef Rodney Scott celebrates an incredible culinary legacy through his life story, family traditions, and unmatched dedication to his craft.

"BBQ is such an important part of African American history, and no one is better at BBQ than Rodney."—Marcus Samuelsson, chef and restaurateur

Rodney Scott was born with barbecue in his blood. He cooked his first whole hog, a specialty of South Carolina barbecue, when he was just eleven years old. At the time, he was cooking at Scott's Bar-B-Q, his family's barbecue spot in Hemingway, South Carolina. Now, four decades later, he owns one of the country's most awarded and talked-about barbecue joints, Rodney Scott's Whole Hog BBQ in Charleston.

In this cookbook, co-written by award-winning writer Lolis Eric Elie, Rodney spills what makes his pit-smoked turkey, barbecued spare ribs, smoked chicken wings, hush puppies, Ella's Banana Puddin', and award-winning whole hog so special. Moreover, his recipes make it possible to achieve these special flavors yourself, whether you're a barbecue pro or a novice. From the ins and outs of building your own pit to poignant essays on South Carolinian foodways and traditions, this stunningly photographed cookbook is the ultimate barbecue reference. It is also a powerful work of storytelling. In this modern American success story, Rodney details how he made his way from the small town where he worked for his father in the tobacco fields and in the smokehouse, to the sacrifices he made to grow his family's business, and the tough decisions he made to venture out on his own in Charleston.

Rodney Scott's World of BBQ is an uplifting story that speaks to how hope, hard work, and a whole lot of optimism built a rich celebration of his heritage—and of unforgettable barbecue.

A Selection of Stories and Recipes
Recipes included in the audiobook and downloadable PDF are:
Rodney's Spare Ribs
Potato Salad
Banana Pudding
Punch-n the Carolinas
Rib Rub
Rodney's Sauce
Read more
Close