The Cae Sal from "Cook This Book" by Molly Baz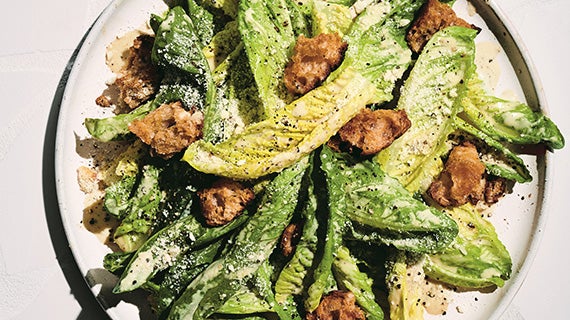 If you only knew the things I'd do for a Cae Sal. Or perhaps you already do. To call it my brand would be to grossly underrepresent what this salad means to me. It is the Greatest Salad of All Time (GSOAT). I've spent a lot of time thinking about, talking about, eating, considering, and developing what I believe is the platonic ideal of a Caesar salad—crisp, cold romaine hearts, a thick peppery, garlicky dressing, lots and lots of Parmesan cheese, homemade croutons, and enough lemon to make it all pop. And while technically you are going to have to make a mayonnaise from scratch in preparing this dressing, it's actually super-duper easy and not as prone to failure as you might think. Trust.
INGREDIENTS
1 garlic clove
1 lemon
4 romaine hearts
2 large eggs
2 ounces grated Parmesan cheese (about ½ cup), plus more for serving
½ crusty baguette (about 6 ounces)
2 tablespoons extra-virgin olive oil
Kosher salt
Coarsely ground black pepper
4 oil-packed anchovy fillets
1 teaspoon Dijon mustard
½ cup canola or vegetable oil
1 teaspoon Worcestershire sauce
STEPS
Make the croutons: Preheat the oven to 350°F. Tear ½ of a baguette into irregular 1-inch pieces; you should end up with about 3 cups of torn bread. Toss on a rimmed baking sheet with 2 tablespoons olive oil, ½ teaspoon kosher salt, and a few good cranks of black pepper until well coated. Bake until deeply golden brown and crisp, 12 to 14 minutes. Let cool.
Make the dressing:*

✦ Separate the yolks and whites of 2 large eggs. Place the yolks in a large bowl (where you'll build your dressing) and reserve the whites for another use. Here's a quick and easy way to do it!
✦ Finely grate 1 garlic clove and the zest of about half of a lemon into the large bowl. Squeeze in the juice of half of the lemon.
✦ Finely chop 4 anchovies, then mash them to a paste, using the side of a chef's knife until homogeneous; add to the large bowl.
✦ Add 1 teaspoon Dijon mustard and whisk everything to combine. Place a damp kitchen towel underneath the bowl to stabilize it so it doesn't slip 'n' slide all over the place as you whisk in the oil.
✦ Starting with a very thin stream at first, whisking constantly as you go, incorporate ½ cup of canola oil into the yolk mixture until it is thick, creamy, and pale yellow. Here's a quick tutorial on how to make mayonnaise by hand!
✦ Whisk in ¾ teaspoon kosher salt, ¾ teaspoon black pepper, 1 teaspoon Worcestershire sauce, and 1 ounce grated Parmesan cheese (¼ cup). Taste the dressing on a leaf of romaine—it should be salty, cheesy, and lemony. Make any adjustments necessary until it tastes so good that you'd be happy eating a bowl of it alone with a side of crouts.

Prep the lettuce: Tear the leaves of 4 romaine hearts into 2-inch pieces and transfer them to the bowl of dressing. Squeeze the juice of half of the lemon over the romaine, season with salt, and toss the leaves to coat, avoiding incorporating any of the dressing beneath just yet.**
Serve: Add the croutons and gently toss the lettuce with your hands until well coated. Add 1 ounce grated Parmesan cheese (¼ cup) and toss again. Divide among plates and top with more grated Parmesan and black pepper.
*You are about to make mayonnaise by hand, BUT it's not as hard as it sounds. The mustard, garlic, and anchovies that get mixed into the egg yolk will help support the emulsion.
**It's always a good idea to preseason your greens with some acid and salt so they are zippy and zingy and hold up to the dressing. The lettuce contains water, which is going to dilute the flavor of the dressing, so you'll always need a little extra acid to combat that.
ABOUT THIS BOOK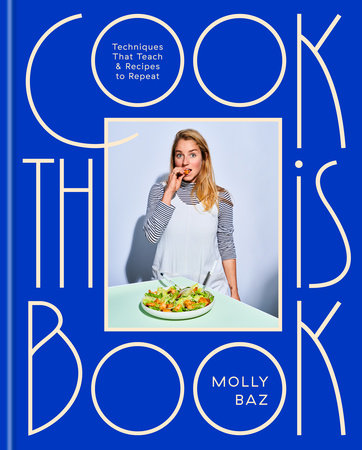 Learn More
Cook This Book
Techniques That Teach and Recipes to Repeat: A Cookbook
Molly Baz
NEW YORK TIMES BESTSELLER • A thoroughly modern guide to becoming a better, faster, more creative cook, featuring fun, flavorful recipes anyone can make.

ONE OF THE BEST COOKBOOKS OF THE YEAR: NPR, Food52, Taste of Home

"Surprising no one, Molly has written a book as smart, stylish, and entertaining as she is."—Carla Lalli Music, author of Where Cooking Begins

If you seek out, celebrate, and obsess over good food but lack the skills and confidence necessary to make it at home, you've just won a ticket to a life filled with supreme deliciousness. Cook This Book is a new kind of foundational cookbook from Molly Baz, who's here to teach you absolutely everything she knows and equip you with the tools to become a better, more efficient cook. 

Molly breaks the essentials of cooking down to clear and uncomplicated recipes that deliver big flavor with little effort and a side of education, including dishes like Pastrami Roast Chicken with Schmaltzy Onions and Dill, Chorizo and Chickpea Carbonara, and of course, her signature Cae Sal. But this is not your average cookbook. More than a collection of recipes, Cook This Book teaches you the invaluable superpower of improvisation though visually compelling lessons on such topics as the importance of salt and how to balance flavor, giving you all the tools necessary to make food taste great every time. Throughout, you'll encounter dozens of QR codes, accessed through the camera app on your smartphone, that link to short technique-driven videos hosted by Molly to help illuminate some of the trickier skills. 

As Molly says, "Cooking is really fun, I swear. You simply need to set yourself up for success to truly enjoy it." Cook This Book will help you do just that, inspiring a new generation to find joy in the kitchen and take pride in putting a home-cooked meal on the table, all with the unbridled fun and spirit that only Molly could inspire.
Read more
Close