The Reaper is a legend, more myth than man: the savior of worlds, the leader of the Rising, the breaker of chains. But the Reaper is also Darrow, born of the red soil of Mars: a husband, a father, a friend. And now his story continues with Light Bringer, the thrilling sequel to Dark Age and sixth book in the Red Rising saga.
Join Pierce Brown on July 25 at 7:00 p.m. ET as he discusses his inspirations and writing process with his editor, Tricia Narwani, and the artwork of the Red Rising saga with Joel Daniel Phillips, artist and co-founder of Lit Escalates.
The program will also feature exclusive segments, including "Drinks with Pierce," during which the author will answer as many burning fan questions as he can. Be sure to submit your question when registering—selected questions will be answered live!
Each ticket includes a signed copy of Light Bringer and a limited edition 11″ x 17″ map of the Archimedes by Joel Daniel Phillips (while supplies last) in addition to virtual event access. Your book order will be fulfilled by our independent bookstore partner, The Strand. Please note shipping is only available to the U.S. and Canada.
We can't wait for you to join us. Hail Libertas!
Event Details
July 25, 2023 • 7:00 pm ET
Virtual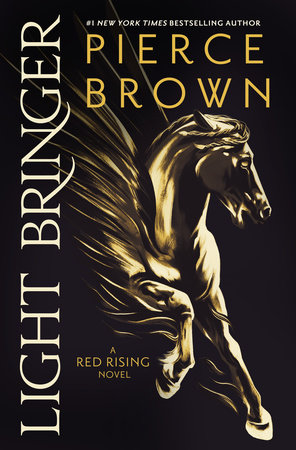 Learn More
Light Bringer
A Red Rising Novel
Pierce Brown
NEW YORK TIMES BESTSELLER • Darrow returns as Pierce Brown's New York Times bestselling Red Rising series continues in the thrilling sequel to Dark Age.

The Reaper is a legend, more myth than man: the savior of worlds, the leader of the Rising, the breaker of chains.

But the Reaper is also Darrow, born of the red soil of Mars: a husband, a father, a friend.

Marooned far from home after a devastating defeat on the battlefields of Mercury, Darrow longs to return to his wife and sovereign, Virginia, to defend Mars from its bloodthirsty would-be conqueror Lysander.

Lysander longs to destroy the Rising and restore the supremacy of Gold, and will raze the worlds to realize his ambitions.

The worlds once needed the Reaper. But now they need Darrow, and Darrow needs the people he loves—Virginia, Cassius, Sevro—in order to defend the Republic.

So begins Darrow's long voyage home, an interplanetary adventure where old friends will reunite, new alliances will be forged, and rivals will clash on the battlefield.

Because Eo's dream is still alive—and after the dark age will come a new age: of light, of victory, of hope.

Don't miss any of Pierce Brown's Red Rising Saga:
RED RISING • GOLDEN SON • MORNING STAR • IRON GOLD • DARK AGE • LIGHT BRINGER
Read more
Close