Join us on Thursday, April 27 at 6 p.m. ET on Zoom as we celebrate the vibrant Arab American creative community during Arab American Heritage Month with a panel of three phenomenal authors: Reem Assil, author of Arabiyya; Sarah Cypher, author of The Skin and Its Girl; and Malaka Gharib, author of It Won't Always Be Like This.
The conversation will be moderated by Lana Barkawi, Executive & Artistic Director of Mizna, a critical platform for contemporary literature, film, art, and cultural production centering the work of Arab and Southwest Asian and North African artists. Assil, Cypher, and Gharib will discuss their books—a cookbook, a novel, and a memoir—the ways we celebrate heritage, grappling with perception and misperception, and the varied homages to lineage, love, and resilience from across the diaspora.
When you register for your free ticket to this conversation, you will also have the option to buy any of the featured authors' books from our independent bookstore partner, Moon Palace Books, based in Minneapolis, MN.
Sign up to reserve your spot today. We can't wait to see you there.
Event Details
April 27, 2023 • 6:00 pm - 7:00 pm ET
Virtual
ABOUT THE BOOKS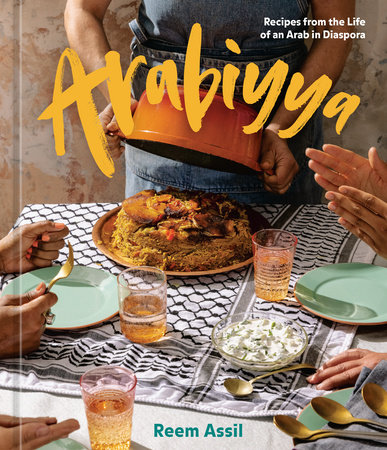 Learn More
Arabiyya
Recipes from the Life of an Arab in Diaspora [A Cookbook]
Reem Assil
A collection of 100+ bright, bold recipes influenced by the vibrant flavors and convivial culture of the Arab world, filled with moving personal essays on food, family, and identity and mixed with a pinch of California cool, from chef and activist Reem Assil
 
"This is what a cookbook should be: passion, politics, and personality are woven through the fabulous recipes."—Ruth Reichl, author of Save Me the Plums

ONE OF THE TEN BEST COOKBOOKS OF THE YEAR: San Francisco Chronicle
ONE OF THE BEST COOKBOOKS OF THE YEAR: Food & Wine, Los Angeles Times, Saveur, Epicurious

Arabiyya celebrates the alluring aromas and flavors of Arab food and the welcoming spirit with which they are shared. Written from her point of view as an Arab in diaspora, Reem takes readers on a journey through her Palestinian and Syrian roots, showing how her heritage has inspired her recipes for flatbreads, dips, snacks, platters to share, and more. With a section specializing in breads of the Arab bakery, plus recipes for favorites such as Salatet Fattoush, Falafel Mahshi, Mujaddarra, and Hummus Bil Awarma, Arabiyya showcases the origins and evolution of Arab cuisine and opens up a whole new world of flavor.
 
Alongside the tempting recipes, Reem shares stories of the power of Arab communities to turn hardship into brilliant, nourishing meals and any occasion into a celebratory feast. Reem then translates this spirit into her own work in California, creating restaurants that define hospitality at all levels. Yes, there are tender lamb dishes, piles of fresh breads, and perfectly cooked rice, but there is also food for thought about what it takes to create a more equitable society, where workers and people often at the margins are brought to the center. Reem's glorious dishes draw in readers and customers, but it is her infectious warmth that keeps them at the table.
 
With gorgeous photography, original artwork, and transporting writing, Reem helps readers better understand the Arab diaspora and its global influence on food and culture. She then invites everyone to sit at a table where all are welcome.
Read more
Close
Learn More
The Skin and Its Girl
A Novel
Sarah Cypher
A young, queer Palestinian American woman pieces together her great-aunt's secrets in this "enchanting, memorable" (Bustle) debut, confronting questions of sexual identity, exile, and lineage.
 
"As beautifully detailed as a piece of Palestinian embroidery, this bold, vivid novel will speak to readers across genders, cultures, and identities."—Diana Abu-Jaber, author of Fencing with the King

In a Pacific Northwest hospital far from the Rummani family's ancestral home in Palestine, the heart of a stillborn baby begins to beat and her skin turns vibrantly, permanently cobalt blue. On the same day, the Rummanis' centuries-old soap factory in Nablus is destroyed in an air strike. The family matriarch and keeper of their lore, Aunt Nuha, believes that the blue girl embodies their sacred history, harkening back to a time when the Rummanis were among the wealthiest soap-makers and their blue soap was a symbol of a legendary love.

Decades later, Betty returns to Aunt Nuha's gravestone, faced with a difficult decision: Should she stay in the only country she's ever known, or should she follow her heart and the woman she loves, perpetuating her family's cycle of exile? Betty finds her answer in partially translated notebooks that reveal her aunt's complex life and struggle with her own sexuality, which Nuha hid to help the family immigrate to the United States. But, as Betty soon discovers, her aunt hid much more than that.
 
The Skin and Its Girl is a searing, poetic tale about desire and identity, and a provocative exploration of how we let stories divide, unite, and define us—and wield even the power to restore a broken family. Sarah Cypher is that rare debut novelist who writes with the mastery and flair of a seasoned storyteller.
Read more
Close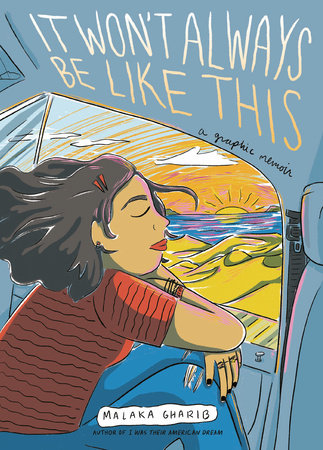 Learn More
It Won't Always Be Like This
A Graphic Memoir
Malaka Gharib
An intimate graphic memoir about an American girl growing up with her Egyptian father's new family, forging unexpected bonds and navigating adolescence in an unfamiliar country—from the award-winning author of I Was Their American Dream.
 
"What a joy it is to read Malaka Gharib's It Won't Always Be Like This, to have your heart expertly broken and put back together within the space of a few panels, to have your wonder in the world restored by her electric mind."—Mira Jacob, author of Good Talk: A Memoir in Conversations
 
ONE OF THE BEST BOOKS OF THE YEAR: Book Riot

It's hard enough to figure out boys, beauty, and being cool when you're young, but even harder when you're in a country where you don't understand the language, culture, or social norms.
 
Nine-year-old Malaka Gharib arrives in Egypt for her annual summer vacation abroad and assumes it'll be just like every other vacation she's spent at her dad's place in Cairo. But her father shares news that changes everything: He has remarried. Over the next fifteen years, as she visits her father's growing family summer after summer, Malaka must reevaluate her place in his life. All that on top of maintaining her coolness!

Malaka doesn't feel like she fits in when she visits her dad--she sticks out in Egypt and doesn't look anything like her fair-haired half siblings. But she adapts. She learns that Nirvana isn't as cool as Nancy Ajram, that there's nothing better than a Fanta and a melon-mint hookah, and that her new stepmother, Hala, isn't so different from Malaka herself.
 
It Won't Always Be Like This is a touching time capsule of Gharib's childhood memories—each summer a fleeting moment in time—and a powerful reflection on identity, relationships, values, family, and what happens when it all collides.
Read more
Close