Coming January 23, 2024, Big Bites is a celebration of nature and seasonality and encourages home cooks to rethink familiar ingredients. To celebrate its upcoming release and the holidays, join Random House Publishing Group and author Kat Ashmore for a festive evening of cooking (including a sneek peek of the book's recipes), holiday planning, and friendship!
Taking place on December 12 at 7:00 p.m. ET, this joy-filled event will include a demonstration from Kat on how to make her Stuffed Mushrooms with Prosciutto Bread Crumbs, holiday planning tips & tricks, gifting ideas, and the chance to ask Kat all your holiday questions! Plus, all ticket-holders will leave with a Big Bites recipe for their own holiday parties!
The event is free and open to everyone! We can't wait to celebrate with you!
Event Details
December 12, 2023 • 7:00 pm ET
Virtual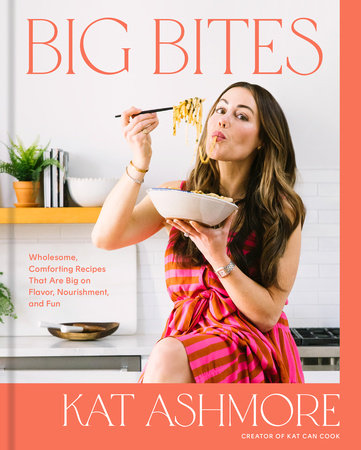 Learn More
Big Bites
Wholesome, Comforting Recipes That Are Big on Flavor, Nourishment, and Fun: A Cookbook
Kat Ashmore
From the creator of Kat Can Cook comes 110 simple, nourishing, mostly gluten-free recipes that are big on flavor and reimagine the concept of "healthy food."

Kat Ashmore's mission is to empower hungry readers everywhere to feed themselves and their loved ones well and have fun doing it. Rather than focusing on restriction or deprivation, she asks: What can we add to our plates? After she turned to TikTok for a creative outlet, her series of big, meal-in-a-bowl salads, known affectionately as "Hungry Lady Salads," went viral on social media, and she found a likeminded community of home cooks who wanted to fall in love with cooking again.

In Ashmore's debut cookbook, she shares 110 wholesome, comforting mostly gluten-free recipes that are full of flavor, nourishment, and fun—and meant to be devoured in big bites! With her signature personality and joy, this cookbook is a celebration of nature and seasonality and encourages home cooks to rethink familiar ingredients. From Hungry Lady Salads and weeknight dinners to snacks and desserts, Big Bites shares recipes for

• Breakfasts: Avocado Toast with Hot Honey; Goat Cheese Fried Eggs
• Snacks: Burrata with Roasted Grapes; 5-Minute Tzatziki
• Hungry Lady Salads: Shaved Caesar Salad with Fennel and Crispy Chickpeas; Roasted Cauliflower Salad with Sesame Date Dressing
• Weeknights: Honey Mustard Roasted Salmon; One-Pot Pasta with Chicken Sausage + Broccoli
• Sunday Suppers: The Ultimate Beef Meatloaf with Caramelized Onions and Horseradish; Crispy Cod Cakes with Tartar Sauce
• Veggies + Sides: Salt and Vinegar Smashed Potatoes; Parmesan Roasted Zucchini
• Desserts: Orange Ricotta Company Cake; Extra Fudgy Avocado Brownies
• Secret Weapons: Quick Pickled Red Onions; Any-Green Sauce

Bring joy back into your kitchen with Kat Ashmore and Big Bites!
Read more
Close