Introducing a powerful routine to pair with your morning coffee! Coffee Self-Talk guides readers through Kristen's formula for living an intentional life with a happy, magical mindset.
Random House is pleased to offer a special opportunity to learn this technique from Kristen Helmstetter herself. Join us on November 16 at 7:00p.m. ET on Zoom, when Kristen will guide us through an easy, daily ritual that can help us learn to love ourselves, unlock happiness, and attract success. Selected attendees will have the opportunity to share their work before the event's close.
Please remember to bring writing materials–a pencil or pen and paper, a tablet, or any writing medium you prefer.
To reserve your spot, preorder your copy of the expanded edition of Coffee Self-Talk, on sale November 1, 2022, from the retailer of your choice (Amazon, Barnes & Noble, IndieBound, Books-a-Million, Target), go to this page and enter the order number from your receipt when registering for your ticket. If you have a copy of the original edition of Coffee Self-Talk, good news, you get free access to the workshop. Email a photo of the book to prove you own it to pr@randomhouse.com. Then join us for a session of creativity, reflection, and affirmations.
We look forward to seeing you there!
Event Details
November 16, 2022 • 7:00 pm - 8:00 pm ET
Virtual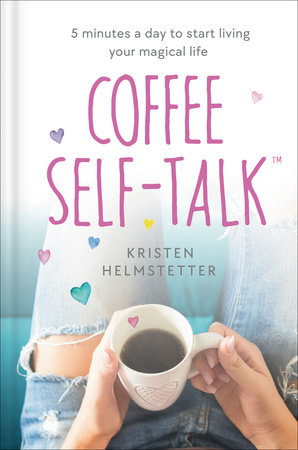 Learn More
Coffee Self-Talk
5 Minutes a Day to Start Living Your Magical Life
Kristen Helmstetter
Inspiring affirmations to help you boost your self-esteem, find happiness, and attract the magical life of your dreams—all with your next cup of coffee!

Do you want to live an inspired life of sparkling adventure and achieve goals you never thought possible? Get started this morning! Coffee Self-Talk introduces an accessible, powerful routine to pair with your morning coffee so you can start every day with positivity and energy. This easy daily ritual only takes five minutes and starts with positive, uplifting thoughts to reframe the way you talk and think about yourself. By priming your brain for happiness, success, and self-love, Coffee Self-Talk helps you take control of your life, increase your confidence, and manifest your dreams. 

This beautifully packaged new edition includes self-talk scripts, guidance on how to personalize them for your own goals, new exercises and questions throughout, and blank pages for journaling and creating your own affirmations. Coffee Self-Talk is a gift to yourself or your loved ones and will help you:

• Learn to love yourself
• Unlock happiness, resilience, and confidence
• Change your bad habits
• Attract wealth, success, and prosperity

No matter your circumstances, now is the time to live your best, most magical life—faster than it takes to finish your first cup of coffee!
Read more
Close
Random House Workshops