Our homes should be beautiful–not based on how the latest trends define beauty, but as a reflection of who we are. Home should be a place where the people and things we love surround us. It seems simple, but sometimes even when we have the best intentions of decorating and designing to perfection—life gets in the way.
Fortunately, Jenny Marrs, host of the hit HGTV show Fixer to Fabulous and author of the upcoming book House + Love = Home, is here to help.
Join us on November 1 at 6:00 p.m. EST on Zoom for our first interior design workshop, as Jenny guides us towards creating intentional spaces. From designing an entryway that introduces your family, to incorporating pieces that serve as conversation starters, to swapping out items that keep your home fresh, Jenny will reveal her secrets for creating spaces full of joy and warmth. And by the way—none of those secrets includes "perfection."
As Jenny says, "Beautiful spaces are most often imperfect and full of character. Just like people. Perfection is never the goal. Living well is."
To register for this event, pre-order House + Love = Home from the retailer of your choice, and submit your proof of purchase when registering. We can't wait for you to join us!
Event Details
November 1, 2023 • 6:00 pm ET
Virtual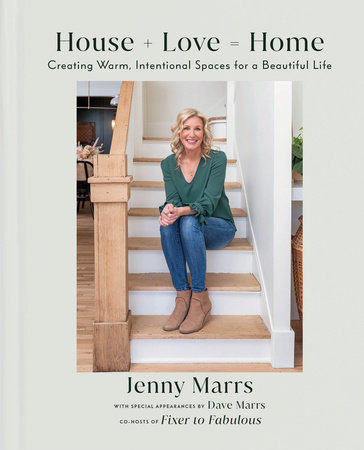 Learn More
House + Love = Home
Creating Warm, Intentional Spaces for a Beautiful Life
Jenny Marrs with special appearances by Dave Marrs
A welcoming guide to transforming any home into a beautiful, inviting space—from the hosts of the hit HGTV show Fixer to Fabulous

Beloved by millions of fans, Jenny and Dave Marrs from HGTV's Fixer to Fabulous have built and remodeled hundreds of homes over the last two decades, creating joyful, warm, and thoughtful makeovers in each one. At its heart, the Marrs believe a home needs to express the intentions of its inhabitants. They also believe your home should be beautiful—not based on how the latest trends define beauty, but as a reflection of who you are. House + Love = Home is filled with:

• Stunning Photos Throughout: Filled with never-before-seen gorgeous photographs of interiors, exteriors, family shots and more
• Intentions: House + Love = Home highlights the twelve areas within a home that Jenny and Dave often remodel and show how each unique space can have intentional design elements that express the personalities of those who live there
• Transformational Tips: these tips take a specific part of a home—everything from doors and shutters to lighting and flooring—and shows the most effective ways to enhance that area

Alongside gorgeous photos of the Marrs' restored farmhouse, their delightful kids, and many other spaces they've reimagined, Jenny and Dave share their personal journey of establishing their own home, an ever-growing family and a busy, sustainable business. Woven throughout are wonderful essays by Jenny about their lives on the Marrs farm and how they seek to live intentionally with a deep abiding faith and purpose. As Jenny says, "Our company motto is the simplest of equations: House + Love = Home. Beautiful spaces are most often imperfect and full of character. Just like people. Perfection is never the goal. Living well is."
Read more
Close