Celebrate Pride with a workshop about writing the stories of your heart led by Camille Kellogg, author of Just as You Are—a steamy, witty, Pride and Prejudice-inspired queer romance.
On June 15 at 7 p.m. ET on Zoom, Kellogg will guide aspiring writers though exercises aimed at finding your own authentic voice, creating characters, and designing plots. Attendees will have the opportunity to share their work with Kellogg and each other to gather feedback (and encouragement!).
This event is free and open to all. When you register for your ticket, you will have the option to purchase Just as You Are and a variety of other LGBTQIA+ titles to be fulfilled and shipped by our independent bookstore partner, Left Bank Books. You can also enter for a chance to win the Pride Pack—a curated selection of books celebrating queer and trans authors and characters.
We can't wait for you to join us.
Event Details
June 15, 2023 • 7:00 pm ET
Virtual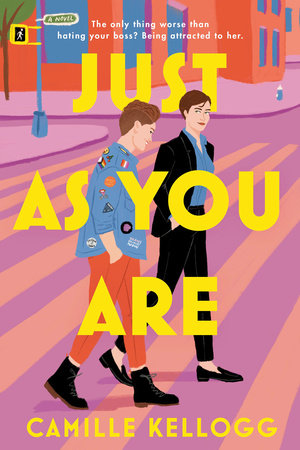 Learn More
Just as You Are
A Novel
Camille Kellogg
Equal parts witty and steamy, this debut rom-com brings a healthy dose of queerness and a whole lot of spirit to a Pride and Prejudice-inspired enemies-to-lovers romance.

"Brims with heart, spice, and humor."—Ashley Herring Blake, author of Delilah Green Doesn't Care
"The L Word, but better."—TJ Alexander, author of Chef's Kiss
"A juicy sapphic romp; sweet, sexy, and tender in all the right ways."—Gabrielle Korn, author of Everybody (Else) Is Perfect

One of Library Journal's Best Romance Books of the Year (So Far)

The only thing worse than hating your boss? Being attracted to her.

Liz Baker and her three roommates work at the Nether Fields, a queer magazine in New York that's on the verge of shutting down—until it's bought at the last minute by two wealthy lesbians. Liz knows she's lucky to still have a paycheck but it's hard to feel grateful with minority investor Daria Fitzgerald slashing budgets, cancelling bagel Fridays, and password protecting the color printer to prevent "frivolous use." When Liz overhears Daria scoffing at her listicles, she knows that it's only a matter of time before her impulsive mouth gets herself fired.

But as Liz and Daria wind up having to spend more and more time together, Liz starts to see a softer side to Daria—she's funny, thoughtful, and likes the way Liz's gender presentation varies between butch and femme. Despite the evidence that Liz can't trust her, it's hard to keep hating Daria—and even harder to resist the chemistry between them.

This page-turning, sexy, and delightfully funny rom-com celebrates queer culture, chosen family, and falling in love against your better judgment.
Read more
Close