Inspired by the buzz around the dating book Calling in "The One" by marriage and family therapist and bestselling author Katherine Woodward Thomas this summer, Well Enough has partnered with We Met IRL to host a speed dating event on September 26 at 7:00 p.m. ET to help you find your One. This special event will be at Helen's, a world-renowned, Asian-inspired venue that just opened its first North American location in the Meatpacking District.
To help you prepare to meet your One, we are offering all ticket holders access to a digital copy of Calling in "The One" to read ahead of the event and, for those who prefer to read in physical form, every attendee will receive a copy of the paperback, along with other goodies, at the event. Details on how to access the digital book will be emailed to ticket holders before the event.
There are tickets for everybody, so please buy the right ticket based on how you identify.
Well Enough and We Met IRL staff will be on hand to make your speed dating experience a truly memorable one, with games, conversation starters, and giveaways throughout the night.
Event Details
September 26, 2023 • 7:00 pm ET
$25
In-person
New York, NY
Helen's New York
22 1/2 9th Avenue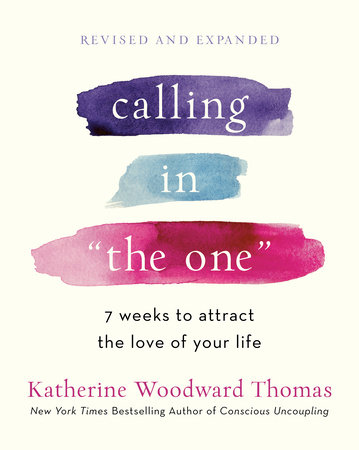 Learn More
Calling in "The One" Revised and Expanded
7 Weeks to Attract the Love of Your Life
Katherine Woodward Thomas
The classic guide to finding love and creating life-altering miracles of happiness and fulfillment, now revised and updated with new insights, stories, teaching points, and transformational exercises.

Are you frustrated by stymied relationships, missed connections, and the loneliness of the search for someone to spend the rest of your life with? In this classic, updated guide to finding deep happiness in love, licensed marriage and family therapist Katherine Woodward Thomas bridges the gap between wanting to find true love and being truly available to create a fulfilling relationship. Love-seekers today have to deal with a precarious terrain of dating and partnering that seems to encourage a lack of commitment and clarity. Calling in "The One" will empower you to have a radically different experience by shifting your painful patterns in love from the inside out, graduating you from unsatisfying relationships and unleashing your power to manifest the happy, healthy love you desire. 

Based on the Law of Attraction, which is the concept that we attract what we're ready to receive, the provocative yet simple forty-nine-day program includes a daily lesson, a corresponding practice, and instructions for putting that lession into action in your life. Manifesting meditations, powerful visualizations, and clarifying journal exercises will lead you to recognize and release your hidden inner obstacles to love and help you grow beyond them. At the end of the course, you will be in the ideal state of mind to go out into the world and find your "One."

An inspirational approach that offers a life-affirming philosophy on relationships, Calling in "The One" is your guide to finding and keeping the love you seek.
Read more
Close
About Well Enough
Wellness means something different to everyone, wherever you are on your wellness journey. We have experts in every area—health, nutrition, diet, cooking, fitness, mindfulness, spirituality, business, financial, emotional, parenting, relationships—sharing curated content for what matters to you. There's never been a better time to start or deepen your wellness practice. Discover more @wellenough.