What are the moral implications for a country that allows poverty to persist when there are clear solutions at hand? In a landmark new book, the Pulitzer Prize–winning, bestselling author of Evicted makes a bracing argument about why poverty continues to exist in America, and what we can do about it.
Join us on Thursday, March 2 at 8 p.m. ET for Spiritual Thought: Poverty, by America, a virtual conversation between Matthew Desmond and moderator Esau McCaulley. They will discuss a faith-informed approach to fighting poverty and what people can do on an individual and structural level to enact change, asking questions such as:
What particular power do communities of faith have to address poverty?
What are ways that faith communities have successfully addressed poverty in the past, and where have they faced shortcomings?
How is a person of faith uniquely accountable to this issue?
What are some tangible opportunities for faith communities to be a part of progress on the issue of poverty in the near term?
"We can feel the emotional violence we inflict upon ourselves, knowing that our abundance causes others' misery," notes Desmond. "It's there in that residue of shame and malaise coating our insular lives."
Tickets for this event are free, but you will have the option to preorder Matthew Desmond's Poverty, by America (on sale 3.21.23) and Esau McCaulley's How Far to the Promised Land (on sale 9.12.23) when you register for your ticket. Book orders will be fulfilled by our independent bookstore partner, Boswell Book Company (U.S. shipping only).
Reserve your spot today, and join us for an evening of inspiring conversation.
Event Details
March 2, 2023 • 8:00 pm - 9:00 pm ET
Virtual
About the Book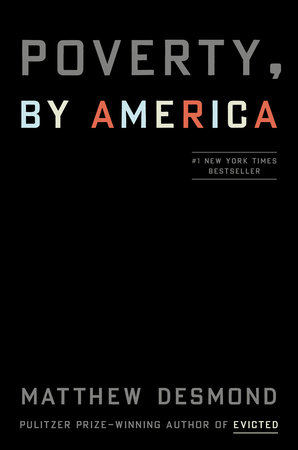 Learn More
Poverty, by America
Matthew Desmond
#1 NEW YORK TIMES BESTSELLER • The Pulitzer Prize–winning author of Evicted reimagines the debate on poverty, making a "provocative and compelling" (NPR) argument about why it persists in America: because the rest of us benefit from it.

"Urgent and accessible . . . Its moral force is a gut punch."—The New Yorker

The United States, the richest country on earth, has more poverty than any other advanced democracy. Why? Why does this land of plenty allow one in every eight of its children to go without basic necessities, permit scores of its citizens to live and die on the streets, and authorize its corporations to pay poverty wages? 
 
In this landmark book, acclaimed sociologist Matthew Desmond draws on history, research, and original reporting to show how affluent Americans knowingly and unknowingly keep poor people poor. Those of us who are financially secure exploit the poor, driving down their wages while forcing them to overpay for housing and access to cash and credit. We prioritize the subsidization of our wealth over the alleviation of poverty, designing a welfare state that gives the most to those who need the least. And we stockpile opportunity in exclusive communities, creating zones of concentrated riches alongside those of concentrated despair. Some lives are made small so that others may grow.
 
Elegantly written and fiercely argued, this compassionate book gives us new ways of thinking about a morally urgent problem. It also helps us imagine solutions. Desmond builds a startlingly original and ambitious case for ending poverty. He calls on us all to become poverty abolitionists, engaged in a politics of collective belonging to usher in a new age of shared prosperity and, at last, true freedom.
Read more
Close
About Spiritual Thought
Spiritual Thought is Random House Group's community for those of us who embrace the nuances of our contemporary spiritual lives—driven to challenge conventional theological ideas while considering the fascinating ways science, society, psychology, and faith can deepen our most profound experiences.