Now that you've read THE BOOK OF BOUNDARIES, what questions do you have for Melissa about setting boundaries this holiday season?
Getting through the holidays can be a challenge; trying to find the perfect gifts, dealing with difficult family members, planning all the gatherings, and meeting everyone's expectations. But this year can be different! Make your holidays easier, less stressful, and more enjoyable by establishing some healthy boundaries.
Now that you've read Melissa Urban's The Book of Boundaries, you certainly feel more prepared to face boundary oversteps–but the holidays pose unique challenges, amplified by the pressure to have the perfect day. Still stressed about how to handle your mother's incessant diet-talk, your cousin's political commentary, your in-laws' expectations to spend the whole day at their house, and the pressure to buy all the gifts? Join Melissa on Tuesday, November 15 at 8:00 PM ET when she discusses her new book, shares how to set smart boundaries to help you actually enjoy this holiday season, and answers your personal boundary questions.
Since launching the mega-bestselling wellness program the Whole30, Urban has taught millions of people how to establish healthy habits and how to deal with pushback and peer pressure. Now, in The Book of Boundaries, she shows how establishing boundaries is the key to better mental health and self-confidence, improved productivity, greater energy, and more fulfilling relationships. Practical, user-friendly, and approachable, The Book of Boundaries will help you stop justifying, minimizing, or apologizing for your needs, leading you to healthier, more rewarding relationships.
You won't want to miss this special event, because the tips you learn here will help you navigate this season–and every season thereafter–with certainty, grace, and confidence.
Event Details
November 15, 2022 • 8:00 pm - 9:00 pm ET
Virtual
About the Book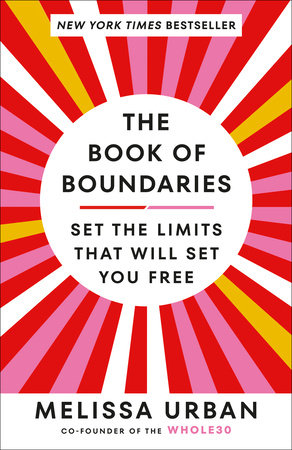 Learn More
The Book of Boundaries
Set the Limits That Will Set You Free
Melissa Urban
NEW YORK TIMES BESTSELLER FROM THE CO-FOUNDER OF THE WHOLE30 • End resentment, burnout, and anxiety—and reclaim your time, energy, health, and relationships.

"Melissa Urban shows the way forward with clarity, vulnerability, and humor."—Gretchen Rubin, author of Life in Five Senses

Melissa Urban has helped millions of people transform their relationship with food. Now, in this powerful and practical guide, she shows how boundaries—clear limits you set to protect your energy, time, and health—are the key to feelings of security, confidence, and freedom in every area of your life.

In her famously direct and compassionate style, Urban offers:

• 130+ scripts with language you can use to set boundaries with bosses and co-workers, romantic partners, parents and in-laws, co-parents, friends, family, neighbors, strangers—and yourself
• Actionable advice to help you communicate your needs with clarity and compassion
• Tips for successfully navigating boundary guilt, pushback, pressure, and oversteps
• Techniques to create healthy habits around food, drink, technology, and more

User-friendly and approachable, The Book of Boundaries will give you the tools you need to stop justifying, minimizing, and apologizing, leading you to more rewarding relationships and a life that feels bigger, healthier, and freer.

ONE OF THE BEST BOOKS OF THE YEAR: Mindful
Read more
Close