From "one of the most brilliant registered dietitians ever" (Gwyneth Paltrow) comes a culinary trip around the globe with 80+ delicious, healthy recipes for heritage dishes embraced by diverse groups of people living in the United States.
Join us on February 2 at 8:00 p.m. ET for Well Enough: Eating from Our Roots with Maya Feller, MS, RD, CDN. The author will discuss delicious new ways to eat sustainably and healthfully, by getting back to flavorful traditional cooking methods from cultures around the world, including the Caribbean, South America, Africa, the Mediterranean, Asia, and more. Then Maya will guide everyone through a nutrition goal-setting exercise, and will work with attendees to create their own definition of a healthy pattern of eating and to craft a culturally relevant balanced grocery list. A Q&A will follow.
The event will be broadcast via Zoom, and each ticket includes a hardcover copy of Eating from Our Roots, in addition to event access. You can register for your ticket and book through our independent bookstore partner, Loyalty Bookstores. You can also gain access to the event by providing proof of preorder or purchase! Upon registration, you'll also be sent a sneak-peek PDF of side dish recipes designed to help you diversify your table this season!
Reserve your spot today!
Event Details
February 2, 2023 • 8:00 pm - 9:00 pm ET
Virtual
About the Book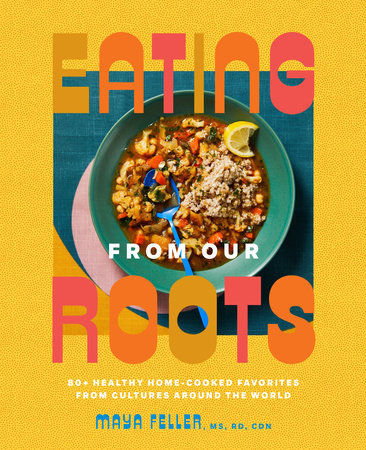 Learn More
Eating from Our Roots
80+ Healthy Home-Cooked Favorites from Cultures Around the World: A Cookbook
Maya Feller, MS, RD, CDN
A love letter to the amazing diversity of the nourishing, flavorful heritage dishes in the United States and around the world, featuring 80+ delicious, heathy recipes—from a registered dietitian and nutritionist
 
"I intend for this book to be your first step of many in decolonizing your plate, exploring your own cultural roots around food, welcoming heritage and traditional ways of eating into your home, and discovering the amazing flavors from cultures around the world."—Maya Feller, from the Introduction
 
The typical American diet is heavy in added sugars, salts, and synthetic fats, but one-size-fits-all nutrition plans often leave us uninspired. There's a more delicious way to eat sustainably and healthfully: by getting back to flavorful traditional cooking methods from cultures around the world, including the Caribbean, South America, Africa, the Mediterranean, and Asia. 
 
Registered dietitian and nutritionist Maya Feller is known for her approachable, real-food-based solutions to making informed food choices that support health and longevity. In this deeply personal cookbook inspired by Maya's childhood visits to her grandparents in Trinidad and Tobago and her family's annual trips to the Caribbean and western Africa, she highlights nourishing dishes from around the world with a focus on whole and minimally processed ingredients. Maya shares realistic ways to think about how we relate to food, along with nutrition tips, plant-based substitutions, and meals that can be made in thirty minutes or less. She makes it easy to enjoy the vibrant flavors of your favorite cuisine with over eighty recipes for any meal of the day, including:
 
• Sweet Potato and Leek Soup with Crispy Potato Skins from West Africa
• Salted Cod from Trinidad & Tobago
• Mezze: Cucumber Za'atar Salad, Olive Oil Labneh, and Olives from Lebanon
• Pad See Ew with Chicken from Thailand
• Cajun Gumbo from the American South
• Pao de Queijo (Brazilian Cheese Bread) from Brazil
 
Featuring mouthwatering photography and insightful reflections on the evolution of global cuisines, Eating from Our Roots offers an inclusive and diverse way to think about healthy eating and celebrates nourishing, flavorful dishes and the cultures they come from.
Read more
Close
Well Enough
Wellness means something different to everyone, wherever you are on your wellness journey. We have experts in every area—health, nutrition, diet, cooking, fitness, mindfulness, spirituality, business, financial, emotional, parenting, relationships—sharing curated content for what matters to you. There's never been a better time to start or deepen your wellness practice.