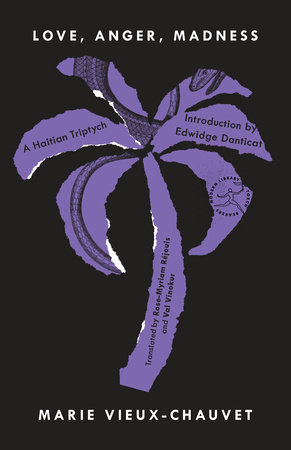 Read an Excerpt
Love, Anger, Madness
A Haitian Triptych
Marie Vieux-Chauvet; Introduction by Edwidge Danticat
About the Book
The only English translation of "a masterpiece" (The Nation)—a stunning trilogy of novellas about the soul-crushing cost of life under a violent Haitian dictatorship, featuring an introduction by Edwidge Danticat
 
Originally published in 1968, Love, Anger, Madness virtually disappeared from circulation until its republication in France in 2005. Set in the barely fictionalized Haiti of "Papa Doc" Duvalier's repressive rule, Marie Vieux-Chauvet's writing was so powerful and so incendiary that she was forced to flee to the United States. Yet Love, Anger, Madness endures.
 
Claire, the narrator of Love, is the eldest of three daughters who surrenders her dreams of marriage to run the household after her parents die. Insecure about her dark skin, she fantasizes about her middle sister's French husband, while he has an affair with the youngest sister, setting in motion a complicated family dynamic that echoes the growing chaos outside their home.       
 
In Anger, the police terrorize a middle-class family by threatening to seize their land. The father insinuates that their only hope of salvation lies with an unspeakable act—his daughter Rose must prostitute herself—which leads to all-consuming guilt, shame, and rage. 
 
And finally, Madness paints a terrifying portrait of a Haitian village that has been ravaged by militants. René, a young poet, is trapped in his family's house for days with no food and becomes obsessed with the souls of the dead that surround him.
Read more
Close