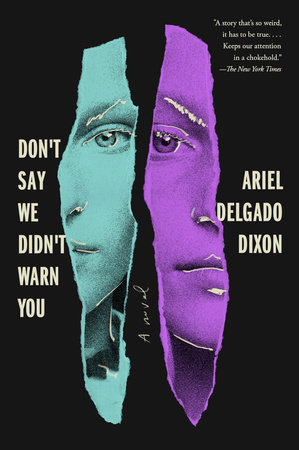 Read an Excerpt
Don't Say We Didn't Warn You
A Novel
Ariel Delgado Dixon
Paperback
Ebook
Audiobook Download
February 15, 2022 | ISBN 9780593556030
About the Book
Two sisters unite to survive a traumatic upbringing—from absentee parents to a wilderness camp for troubled teens—in this "relentless and spooky" (Joy Williams) debut novel from an essential new voice.

"A story that's so weird, it has to be true. . . . Keeps our attention in a chokehold."—The New York Times

ONE OF THE BEST BOOKS OF THE YEAR: Good Housekeeping

"When the Juvenile Transportation Services come for you in the night in a preordained kidnapping, complete with an unmarked van and husky guardsmen you can't outmatch, you have been sold for a promise."

A young woman thinks she has escaped her past only to discover that she's been hovering on its edges all along: She and her younger sister bide their time in a dilapidated warehouse in a desolate town north of New York City; their parents settled there with dreams of starting an art commune. But after the girls' father vanishes, all traces of stability disappear for the family, and the girls retreat into strange worlds of their own mythmaking and isolation.

As the sisters both try to survive their increasingly dark and dangerous adolescences, they break apart and reunite repeatedly, orbiting each other like planets. Both endure stints at the Veld Center, a wilderness camp where troubled teenage girls are sent as a last resort, and both emerge more deeply warped by the harsh outdoor survival experiences they must endure and the attempts by staff to break them down psychologically.

With a mesmerizing voice and uncanny storytelling style, this is a remarkable debut about two women who must struggle to understand the bonds that link them and how their traumatic history will shape who they choose to become as adults.
Read more
Close